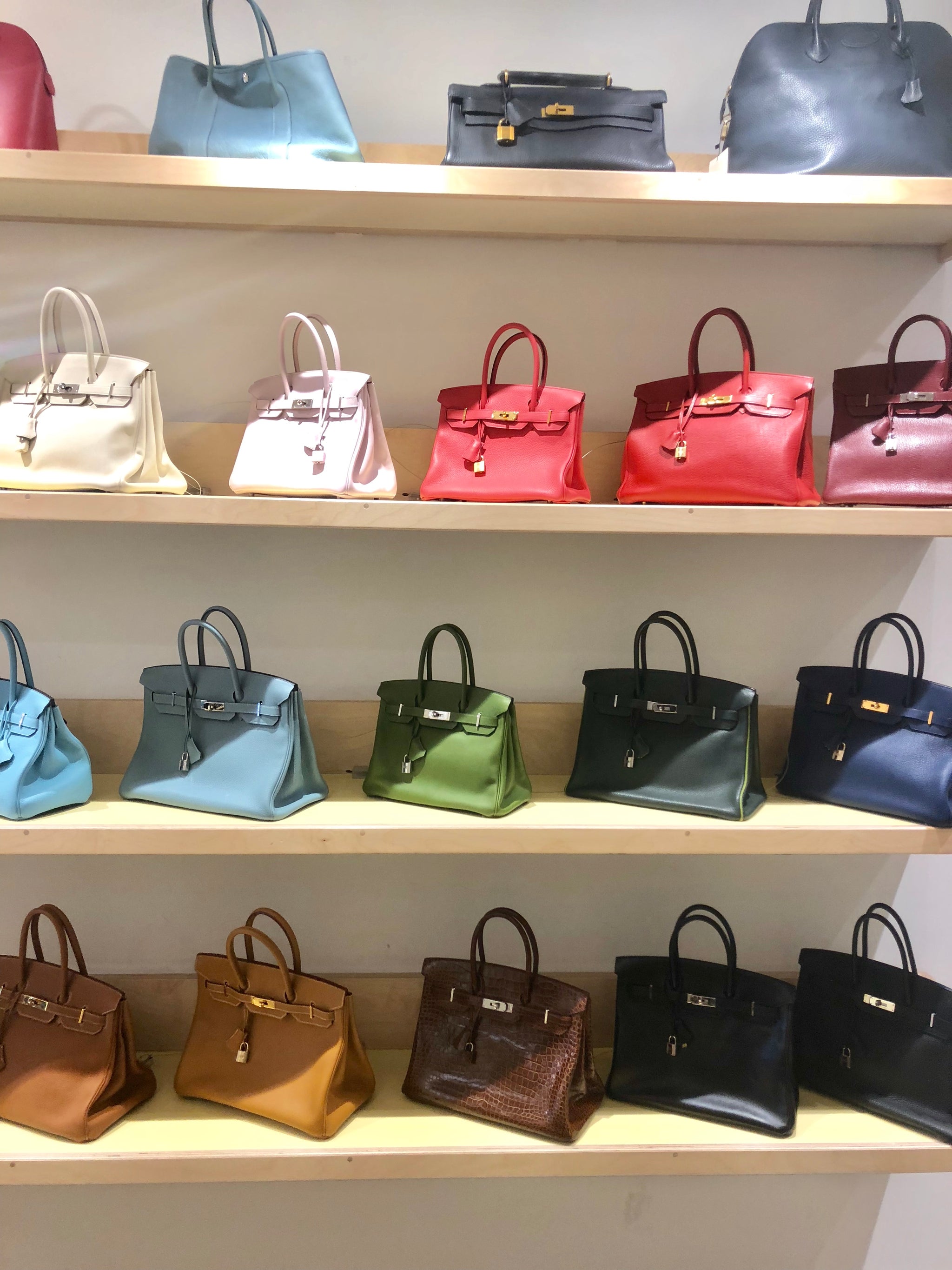 Repurpose, recycle, re-use and now REBAG. The world of consignment has changed over the last few years.  Where once there were few now there are many. Even more than that, they've upped their game.
Rebag has locations across NYC as well as California and Florida and their shops are filled with Hermes, Chanel, Alexander McQween - you name it.  Condition and authentication is everything which is why each of their bags comes with the paperwork to prove it's the real deal.
It's a concept that makes sense. Clients on the forefront of fashion now have a better way and higher standards as far as dings and dents go so buying someone else's well loved hand bag is a brand new experience. With an amazing selection and instant gratification for the buyer and seller, this shopping experience provides the high end hand bag market with stiff competition.
We went to Rebag at their SoHo location at 390 W. Broadway. True to a luxury hand bag buying experience, Laura and Gabby personally walked us through the process without pressure but to educate us and give us the personal attention you would get with any high end experience. Their knowledge on the handbag industry as a whole and their knowledge on each brand was actually amazing.  It was a true boutique shopping experience with personal attention but also exceptional products to back it up. The Hermes Constance Bag Box, the Birkin bags, the Stella McCartney Falabella Fold Over Crossbody in Vegan leather, the Louis Vuitton Speedy handbag limited edition Jeff Koons Da Vinci print. It goes on and on if you search their website. Rebag is so worth the trip but if you cannot get to one of their shops their online selection is vast and moves quickly. I personally made a purchase and will for sure be back.
If sneakers are what you covet but you can't afford those Yeezys then welcome to Urban Necessities. With two locations, Las Vegas and New York (at 599 Broadway) their expansive collection of sneakers shows that the second hand market is alive and thriving.  Condition is everything - those Adidas Pharrell x NMD 'Human Race' Noble Ink sneakers might be high end but if they're covered in scratches and holes you're not buying and the sneaker market is everything right now.
Urban Necessities also uses the latest technology to make the buying experience easy.  Choose the sneaker, use your phone to hover over the bar code and a link immediately pops up to guide you to the details, price and other pertinent facts about the sneaker you love.  Even if you're technically challenged you can figure this out.  In a market where customers who love their sneakers can never have enough it makes sense to jump into the second hand market. Adding the technology to the shopping experience just kicks it over the goal post as far as making this an easy shopping experience. 
Whether it's hand bags or sneakers the vetting process is strict and for these luxury items it should be.  You're still paying a premium but not what you would have paid in the luxury department store which allows you to keep up with the trends at a better price point.  With both of these experiences, the hand bags and sneakers are laid out like candy with walls of color for consumption.  
As someone who shops other peoples goods for a living it's great to see this at the high end level as well.  I'm still not afraid to dig through a second hand store like the Buffalo Exchange (Their Chelsea location) to find myself a Gucci belt (with lots of ware) but this ups the game and I'm all in.
Read more