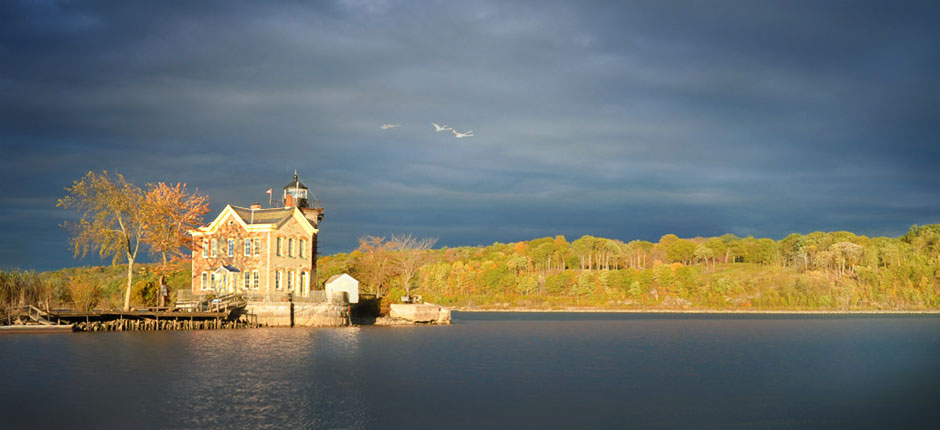 Ever thought of staying at a lighthouse?  To me it actually sounds like a romantic idea.  No electricity, candlelight, sweeping views of the ocean and maybe some spooky howling wind as well.  Although this would be a fun adventure, the importance of the lighthouse in our history is not lost on me.
Light stations have served as beacons for weary mariners finding their way back to shore. The Fresnel lens which was made up of many panels of glass, would reflect and refract the light so ships could easily find their way to port.  The keeper was responsible for taking care of the light and the head keeper was responsible for taking care of the light station. Fog Horns, whistles, flashes of light in intervals, all of these tools were used to aid mariners in their navigation.  In a time with far less technology, the keepers job was incredibly important.
Today the U.S. coastguard is responsible for the care and maintenance of light stations. These historic landmarks have been updated with technology which leaves no need for the lighthouse keeper. Thankfully, many discontinued lighthouses have been preserved by organizations and non-profits who offer programs, volunteer host opportunities, vacation rentals and tours. 
From Alaska, to Wisconsin, to Virginia there are lighthouse experiences available.  Some allow you to stay in the actual lighthouse and others have only the inn keepers house available.  Some require caretaker and campground duties as part of the experience while others are just like a B and B.  
I found several that appear to offer a true lighthouse experience.
The Saugerties Lighthouse is in upstate New York on the Hudson River. After a half mile walk up a nature trail you arrive at the restored brick lighthouse.  This bed and breakfast experience offers two bedrooms with original inn keeper decor and views of the Hudson Valley.
Heceta Head Lighthouse in Oregon offers views of the Pacific ocean from its cliffside location. If that's not enough, stays include a seven course breakfast from the breathtaking location.
Frying Pan Tower in North Carolina is 34 miles offshore.  This experience truly puts you in the middle of the ocean for a true getaway.  Overnight experiences may have stopped due to restoration but tours may still be available.
Little River Lighthouse in Maine boasts that you will "be the first to greet the dawn of each new day" because it is the most northern light station. Located on Cutler Harbor, for New Englanders it's a short drive for a beautiful experience.
If you're looking to go farther, the New Dungeness Lighthouse on Washington's northwest coast is located in the Dungeness National Wildlife Refuge. In the Sequim, Washington location you can enjoy view of whales, bald-eagles and the Olympic Mountain range.
"If you want to preserve the past sometimes you have to experience it."
https://uslhs.org/fun/lighthouse-accommodations/massachusetts
Read more