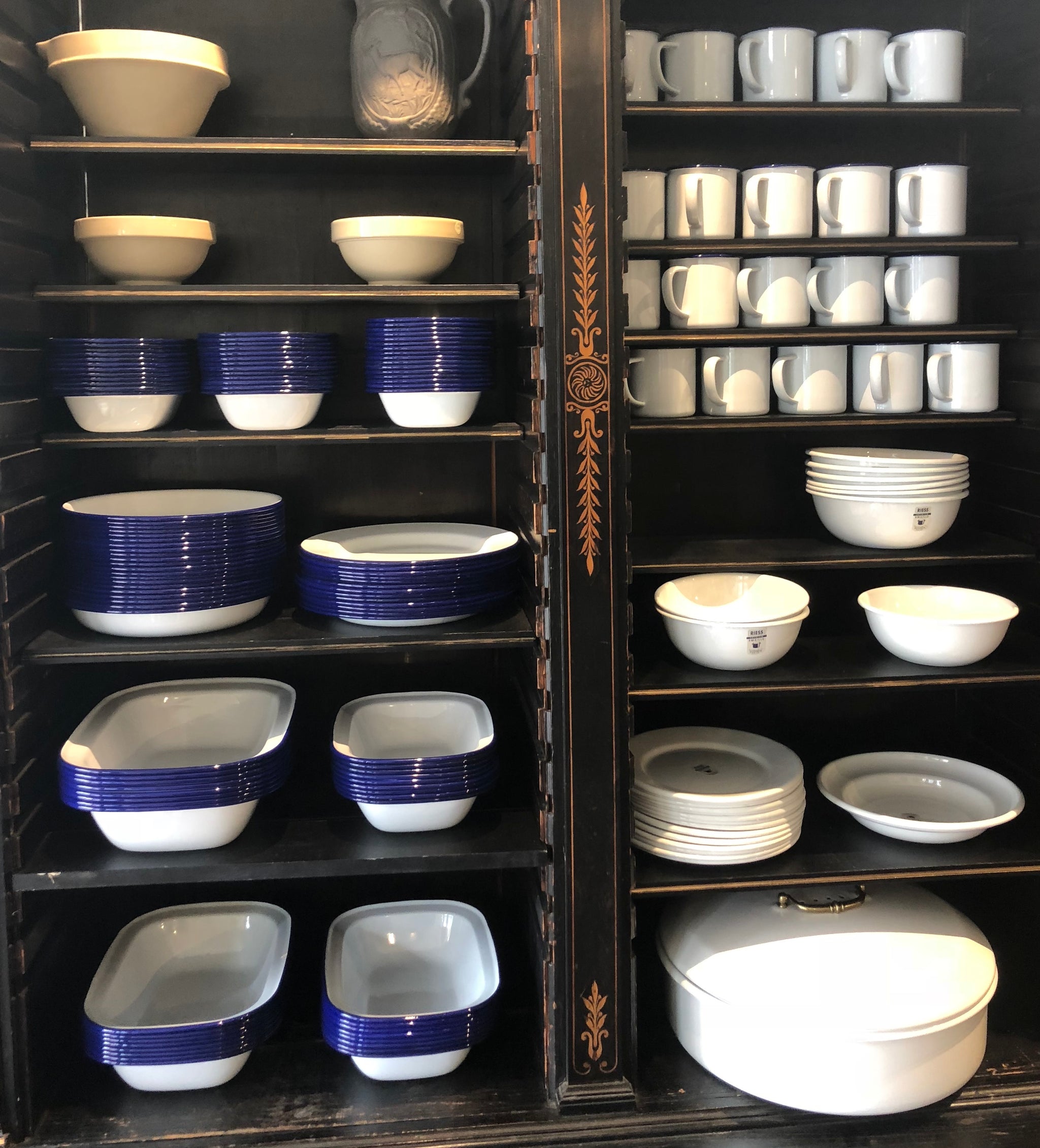 You arrive in the Hudson Valley and you have landed in a mega capital of antique stores that range from places to pick to well-curated collections.  You could spend a couple of days walking up and down Warren Street in the center of town, wandering in and out of shops, cafe's and galleries all the while admiring the architecture of the 1800's row houses.  If you're doing a day trip these are the places not to miss giving you the full spectrum of high-low shopping.
One of the first shops I always love to hit is FINCH. Andrew and Michael have a keen-eye for curating collected pieces.  Their masterful vibe is vintage and modern. A hand painted screen, a collection of carved Hungarian plaques of animal heads and a vintage 1940's leather club chair from Sweden.They're super cool, eclectic style is immediately inspiring. ( @finchhudson )
The Red Chair on Warren is another favorite.  The decor in this shop is how I want my home to look.  A large collection of white confit pots from France, white antique linens, hotel silver, strong pine pieces that are unusual and yet practical.  Her look is consistent and well-collected and I will always leave with something I love. ( @red chair_hudson )
Furlongs is a great mix of high/low art, wonderful glassware and mid-century furniture. I immediately found a pair of cow hide, petit metal chairs and a set of Ralph Lauren chunky high ball glasses.  Their mix is mostly modern with an emphasis on art and glassware. And not for nothing but when I went back to purchase the glasses that I couldn't live without and they were closed (it was a Friday evening) the owner was nice enough to unlock the doors and let me back in for one last look.
Rural Residence. This shop is a wonderful blend of early American antiques with a focus on nineteenth century pieces but mixed with coffee table books on architecture, modern table top pieces that reflect vintage enamelware, and smalls for the home. 
Antigo. It's time to pick so if you're ready to dig this is the place.  What I enjoy about shopping in Hudson is the variety.  If you only want curated pieces then you can find those shops but true pickers can also get a bargain. It's jammed but you will find the brass nutcracker you needed, the hooked rug of your Newfie dog (I bought), a vintage globe and a Bermuda bag that makes you nostalgic.  It's not for the weak and it's not curated. ( @antigo_hudson ) It's a downright treasure hunt.
Colonia.  This small shop carries hand selected decorative antiques where a large porcelain Pharmacie sign blends perfectly with an 1850's painted pine dresser, Italian cafe chairs and vintage framed posters from Italy.  
Regan and Smith Antiques think authentic Eames wire chair meets a nine foot statue of David meets a mid century velvet curved sofa with art and lighting in the mix. It's a great shop to take in the unusual if you're looking to make a big impression with your decor.
Hudson, New York is filled with places to eat, shop and stay and someplace I personally love to shop.
Read more