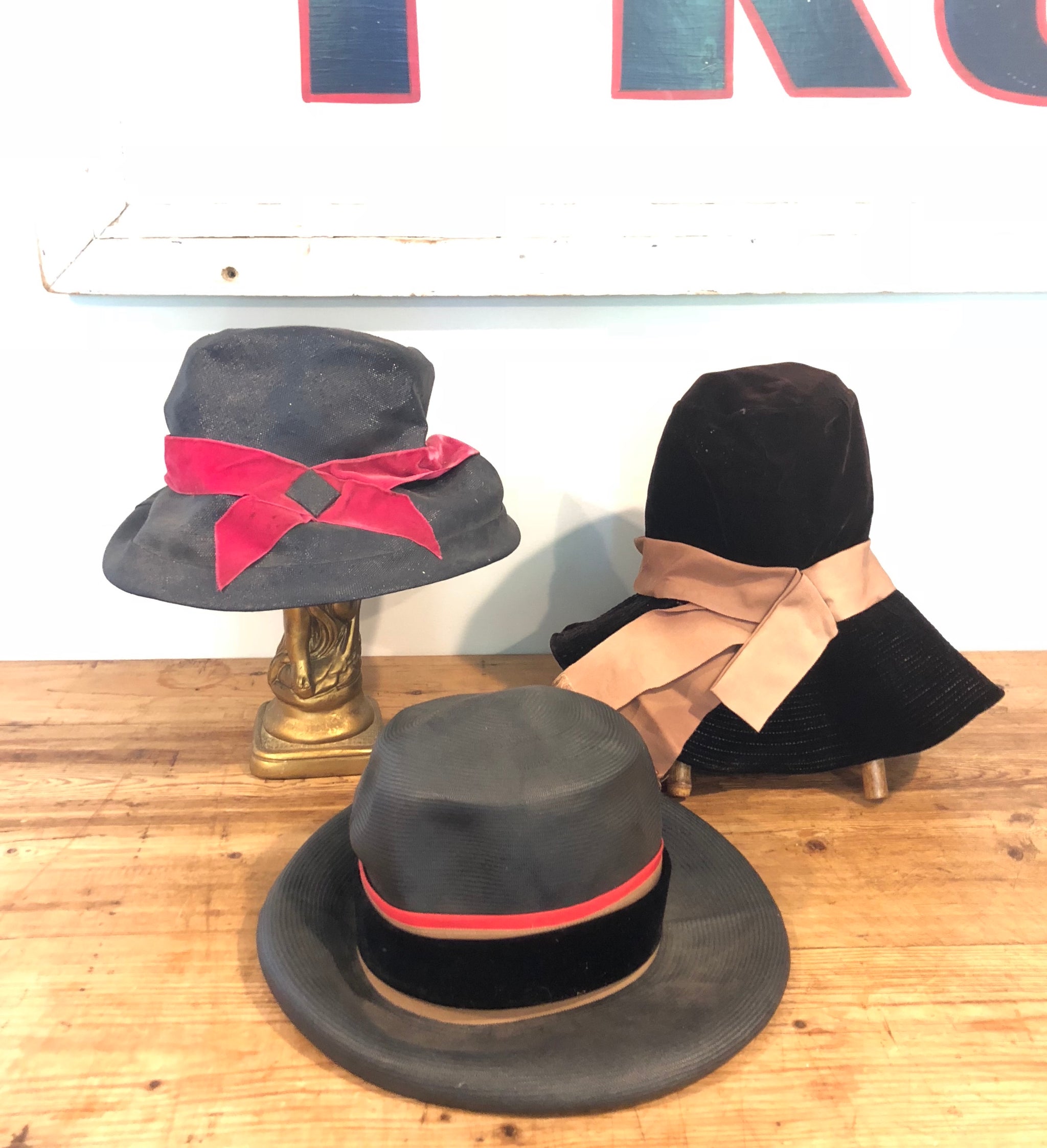 I've always loved vintage fashion and it's never been more on display than it was at the Brimfield Antique Show this September.
Every year that I exhibit and shop there seems to be a resounding theme. One year it was rocking horses, another year it was tobacco wraps, and this year it was vintage clothing.  If you're new to the vintage clothing game you might think "yikes! Moths and other peoples clothing." and yes, there's that.  On the other hand it's a time capsule of history.  A wool blazer with a perfectly matching wool skirt and large round glasses, very Jackie O. A mustard yellow dress that is part turtleneck and part plaid skirt but all one piece, very Brady Bunch but just as fantastic. Finding a vintage Valentino wool coat (as I did this summer) that completely translates into my current wardrobe or even a polyester jump suit from the 60" that may not translate but you can appreciate that it has survived this long is part of the fun.  
I love hats and appreciate that a milliner hand created this piece of fashion.  I luckily came across an estate clean out a few months ago where the owner of the home had been a manager at Filenes Department store from the 50's on.  It was like being in a time capsule with vintage clothing from Neiman Marcus, Gucci, Saks and brands with yellowed labels like Jean Barthet New York.  It was a fascinating walk through time but the hats were what drew me in.  All that work to create something so beautiful and my fear that they would get tossed led me to the purchase of six hats.
The vintage clothing market is vast but it's a fun place to get lost in.  If you're looking for some places to shop. Here are a couple of shops that are clean, well-curated and have lot's of great pieces. 
Bitsky Vintage & Upcycled Goods @bitskyvintageupcycle  She is out of Sturbridge, Mass. and has an incredible collection of vintage bags and hats as well as clothing.
Vintage in Vogue. This shop has two locations: Orleans and Provincetown, Mass. and has an incredible collection of truly authentic vintage goods.  She is an expert at curating pieces up through 1970. Stepping into this shop is a fun time-travel experience. Along with the clothing there is a large selection of vintage wedding dresses if you're in the market.
Read more