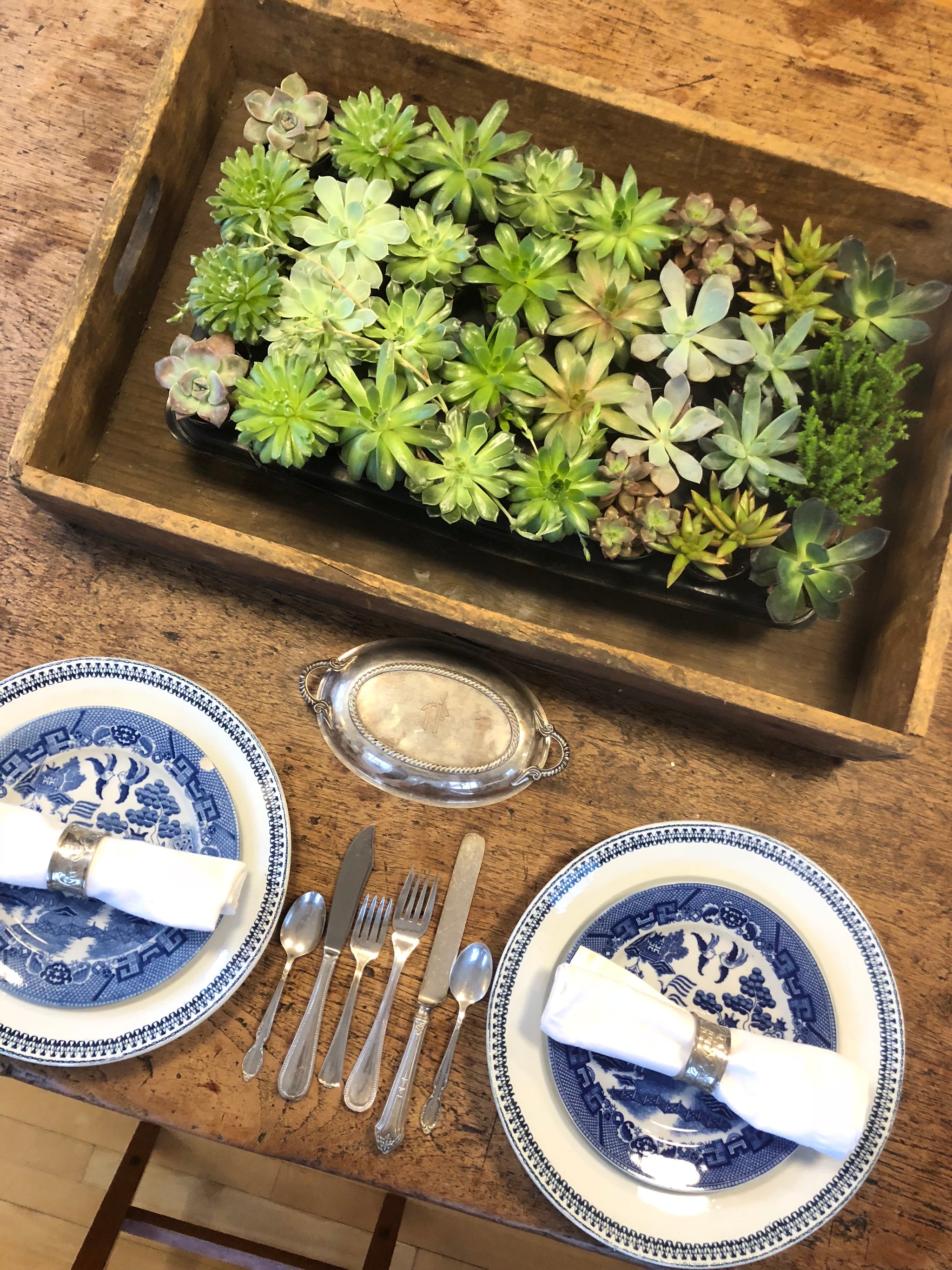 Table Settings
We are quarantined (  #stayathome ) which has brought many stresses to our household. It has certainly forced a slow down and because of that we are having more family dinners for the six of us.  

Coming up with new meals is a challenge but it's also an opportunity to be thankful.  Setting the table each night reminds me of a time my kids never knew.  A time when I was a child and we would have to set the table for dinner and show up when we heard " DINNER" yelled throughout the house.  (That part might actually be the same.) 

I'm not a great cook but I am a good hostess, which means I can set a darn good table with themes, props and centerpieces. Back in the day, it was important to follow the rules of how a table should be set ie. the flatware should be placed to the left and right of the plate, the water glass placed just above the spoon and knife.  Those rules don't apply if you are trying to create something special.

My non rule-rules to follow:

Mix and match: There's nothing I love more than mixing up my vintage blue willow plates with other blue and white patterns.  Using varied pieces of antique tumblers or cut glass so each place setting is also different.

Napkins are another category on their own.  They can be placed traditionally under the fork but could be on the plate or in a glass. Using tea towels or even swatches of fabric (washed) leaves endless possibilities for color and texture at your table.
Napkin rings are a fun touch.  Vintage napkin rings are not that difficult to find it you have the patience to scout the glass cabinets at antique shops.
Lastly the centerpiece could be the first thing people notice as they approach your table. Flowers are always amazing and make a table feel fresh and alive but it doesn't need to stop there. You could fill glass containers with candy or anything depending on your theme. Instead of one centerpiece use several but scattered.  Anything goes when it comes to the center of the table.
Lastly, use what you have!  I've done place settings with vintage Hardy boys books under each plate so that the dinner party can take a fun turn when everyone reveals what mystery book they have.  I've set the table and used house numbers placed at the center of each plate instead of place card settings.  I've also used different antique brass figurines placed at the top of each plate setting to add an interesting touch to each plate.
Whether it's your kitchen table, your dining room table or a tray table, setting the space can be just as important as the meal.
"After all, the way a table is set contributes to the ambience of a meal as much as the food and wine" - Martha Stewart.